HONGSAKHONE Soulixay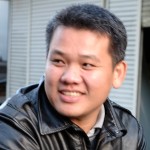 Name: HONGSAKHONE Soulixay
Department:
Course: Social Implementation Course
Research Field: Comparative Studies of Trade integration impacts of Lao PDR and Nepal
Supervisor: Professor, ICHIHASHI Masaru

Career and Academic Background before TAOYAKA Program
Upon completion of my Bachelor's Degree in General Economics from the Faculty of Economics and Management of National University of Lao PDR in 2003, I started working for Luang Prabang provincial Department of Industry and Commerce and was credited as an outstanding officer for several years. My main designation and duties were to formulate both short-term and long-term planning on commerce activities development, to disseminate and implement directions, orders, policies and regulations. My tasks were not only to provide useful information on trade and investment to local entrepreneurs but also to help the rural poor to have access to efficient and equitable market opportunities. In 2008, I won the JDS scholarship and was accepted to Hiroshima University. I enrolled in the Graduate School for International Development and Cooperation (IDEC), majoring in Economics.  My research topic was "the relationship between Foreign Direct Investment (FDI) and Trade Flows in Lao PDR". After I graduated from Hiroshima University in 2011, I returned to my home country and resumed my work at the same department. With solid qualifications gained from IDEC, I was assigned to work as a Deputy Head of Planning and Cooperation Section. My main duties were not only to supervise the planning and cooperation section but to work with local authorities, traders and local people in order to make development plans and implement industrial and commerce activities. Over my working time, for my country, I made a great contribution to the improvement and development of my workplace.
Research Plan in TAOYAKA Program
Since gaining working experience beyond areas of industry, commerce and government, I realized that the rural development and regional integration of Lao PDR requires not only advanced human resources, but also state-of-the-art science and technology, and a dynamic and sustainable policy to enhance the economic livelihoods and empowerment of rural poor people in terms of jobs, income generation and physical infrastructure development.
My research interest has focused on the relationship between rural economic development and trade integration impacts of developing countries, especially land-locked and least developed countries like Lao PDR and Nepal. As Lao PDR and Nepal are both currently designated by the United Nations as "Least Developed Countries", Nepal, an isolated country for much of its history, underwent tremendous political and economic changes in the past decades. The country has signed several bilateral and regional trade agreements in order to integrate its trade sector into the global mainstream. However, Nepal is still an impoverished nation with an ever-widening trade deficit. The country also has poor infrastructure and lacks adequate resources, both natural and human. Lao PDR is also a land-locked country whereby two third of its area is mountainous. Almost 80 percent of the Lao population is agriculture dependent, and agriculture has been the main provider of food, employment and income opportunities. Against this background, I am interested in having a better understanding on how recent reform developments will bring about progress in terms of economic and development, in particular with respect to poverty and rural development dimensions in landlocked and least developed countries like Lao PDR and Nepal. The main objectives of this research are to 1) examine the impacts of trade liberalization on economy-wide development, in particular economic growth, imports and exports, and productivity improvement in these countries; 2) analyze the impacts of trade liberalization on poverty reduction and draw recommendations and policy-responses for policy makers in these countries.
Career Plan after TAOYAKA Program
Upon completion of the TAOYAKA Program, I strongly believe that I will have broader perspectives and get a good grasp of key development issues which will equip me to become a specialist and policy analyst in my home country. Of course, after completing a PhD, I will continue my career as a government official. I realize that my future career with government will be better and I can assume more leadership roles in my workplace. This will give me more opportunities to share and utilize skills and abilities such as quantitative and qualitative analysis, problem-solving skills, communication and other skills gained from the TAOYAKA Program.  I strongly believe my love for government and self-motivation will be a springboard for my achievement in the future.