News
Application guideline is available (April/October 2019 admissions)
Application guideline for the following admission is now available
– April 2019 Admission (Second Admission)/October 2019 Admission and (General Selection/Transfer Admission into 3rd year)
*Application guideline for Campus Special Admissions for April 2019 will be available at around the end of August.
Admission Application Information
Taoyaka Multidisciplinary Student Seminar
Multidisciplinary Student Seminar, just like TSSS (Taoyaka Students Seminar Series), has been planned to provide M1 (second semester) and M2 students with opportunities to share their expertise and explore the possibilities of multidisciplinary field of research by making presentations and having discussions during the period when there's no Onsite Course Rotation classes.

Taoyaka Multidisciplinary Student Seminar will be held on several Fridays.
■ Time: 16:20 – 17:50
■ Venue: Taoyaka Classroom (2nd floor of Daigaku-Kaikan)
Date
Presenter
Course
June 22
Nugroho Setyo
Social Implementation Course
July 13


Cancelled

Oishi Tomoko
Shin Daeyong
Cultural Creation Course
Social Implementation Course
July 20
Sakamoto Miyu
Sebal Oo
Social Implementation Course
July 27
Urbanowicz Szymon
Oishi Tomoko
Cultural Creation Course
August 10
Temocin Pinar
Shin Daeyong
Social Implementation Course
The 56th Consortium Seminar on Human Resources will be held as follows.
This seminar is open for all
■ Date and time: Tuesday, June 5, 2018, 14:35-16:05
■ Venue: Library Hall at Central Library, Hiroshima University
■ Title: Maximize your Talents in "Globalized" Society – Diversified Career Opportunities in the Global Market
■ Speaker: Ms. Karen Metz, Business Planning and Process Management Vice President, Micron Technology, Inc.
■ Language: English
■ Registration:https://goo.gl/JEzYP6
■ Registration Deadline: Friday, June 1st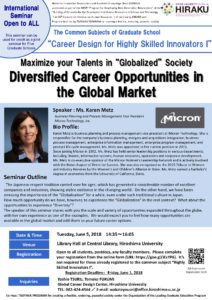 The 125th TAOYAKA Program Seminar will be held on Wednesday, May 23, 2018.
Everybody is welcome. We look forward to seeing you at the seminar.
■ Date: Wednesday, May 23, 2018
■ Time: 15:00 – 16:30
■ Venue: Large Conference Room, 1F Graduate School for International Development and Cooperation (IDEC), Hiroshima University
■ Title: From social entrepreneur to innovation promoter: Promoting start-up to contribute in the economic development of Nepal
■ Speaker: Prof. Mahabir Pun, Chairperson, National Innovation Center, Nepal
■ Language: English
■ Registration:Not required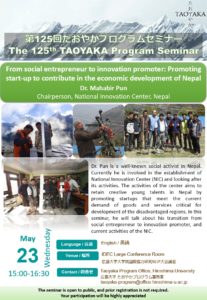 PDF
Information Sessions for future applicants will be held
Please contact us for registration with your name, affiliation and contact information by May 7.
(April 12) The 5th TAOYAKA International Workshop will be held
Date & Time: 13:00-14:30 Thursday, April 12, 2018
Venue: IDEC Large Conference Room, Hiroshima University
Registration is required. Please send your name and affiliation to below address by December 6
taoyaka-progrma*office.hiroshima-u.ac.jp (Please replace * with @)
Program Schedule
13:00–13:05  Opening remarks  –Prof. Shinji Kaneko (Mentor of OTP8)
13:05–13:30   Importance of Education in Development: A Situation of Education in Myanmar(15 min presentation & 10 min discussion) – by Ms. Swe Swe Win, Researcher & Analyst Manager (Kantar TNS Myanmar)
13:30-14:10  Analysing the effectiveness of teaching climate education through Randomized Controlled
Trial (RCT) – by team 8 (Htwe Nyi Nyi, Shree Kumar Maharjan & Benjamin Kane Blevins)
14:10 – 14:25  Discussion, Q & E sessions and suggestions from the mentor, professors and students
14:25 – 14:30  Closing remarks – by Prof. Akimasa Fujiwara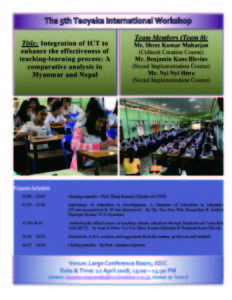 Application Guideline is now available: October 2018 Admission (Second Admission)/April 2019 Admission and (General Selection/Transfer Admission into 3rd year)
Click here