News
The 20th Taoyaka Program seminar was held
Date: Wed, August 27 2014
Venue:Graduate School of Advanced Sciences of Matter,401N lecture room
Lucturer:Tetsuo Urabe (Former executive officer SVP, Sony Corporation)
Title:Passion is a key driver for R&D commercialization –An example of the development of organic electroluminescence televisions
Laguage: Japanese with interpretation into English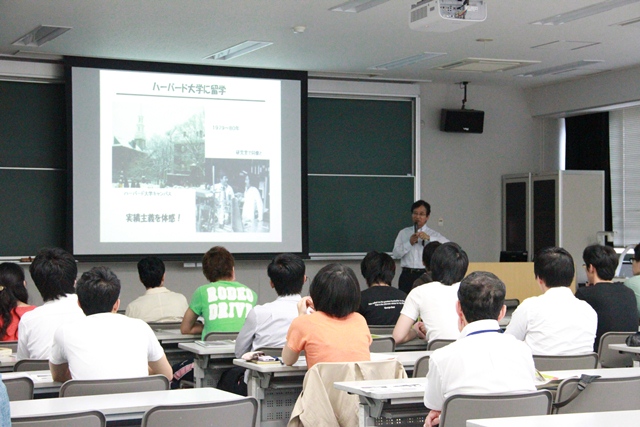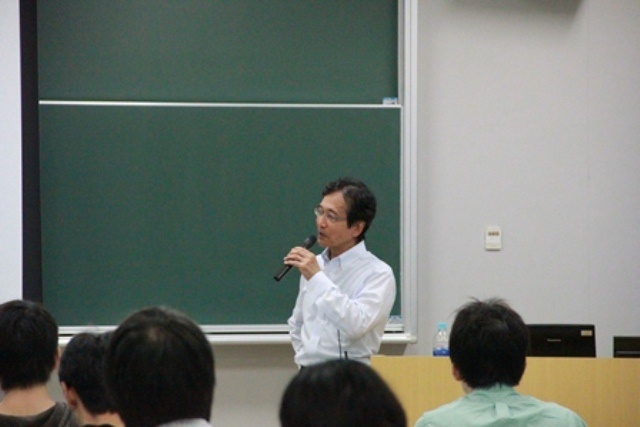 The 22nd TAOYAKA Seminar/276 IDEC Asia Seminar was held on Aug 19, 2014
Date: Tuesday, August 19th 13:30-15:30
Venue: IDEC 1F Large Conference Room
Lucturer: Prof. Larry Chow(Director of Hong Kong Energy Studies Centre /Visiting Professor of Geography, Hong Kong Baptist University)
Title:Projection of World Oil Prices up to 2030
Language:English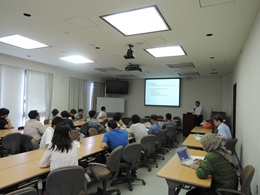 The 18th and 19th TAOAYAKA Program seminars were held
【The 18th】
Title:Impacts of Wind Power on Reactive Power Planning and Dispatch
Date& Time: Thu. July 24, 2014 14:35pm~16:05pm
Venue: Middle Conference Room(A1-141),Graduate School of Engineering,Hiroshima University
Speaker: El-Said El-Sayed El-ArabyAssociate Prof. ofQassim University,Saudi Arabia
Language:English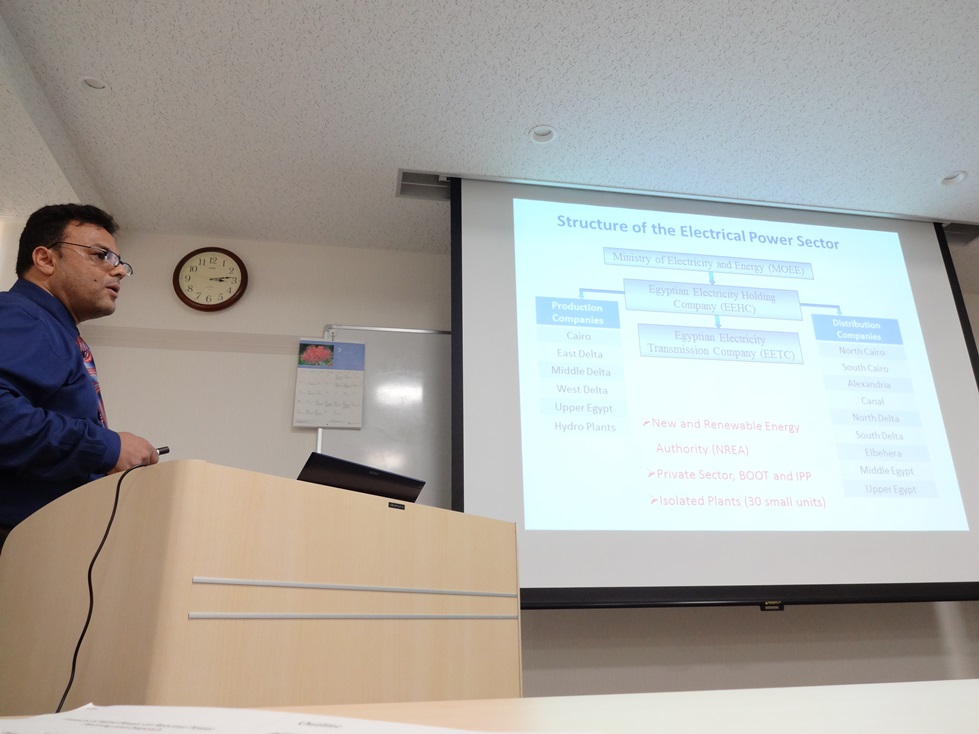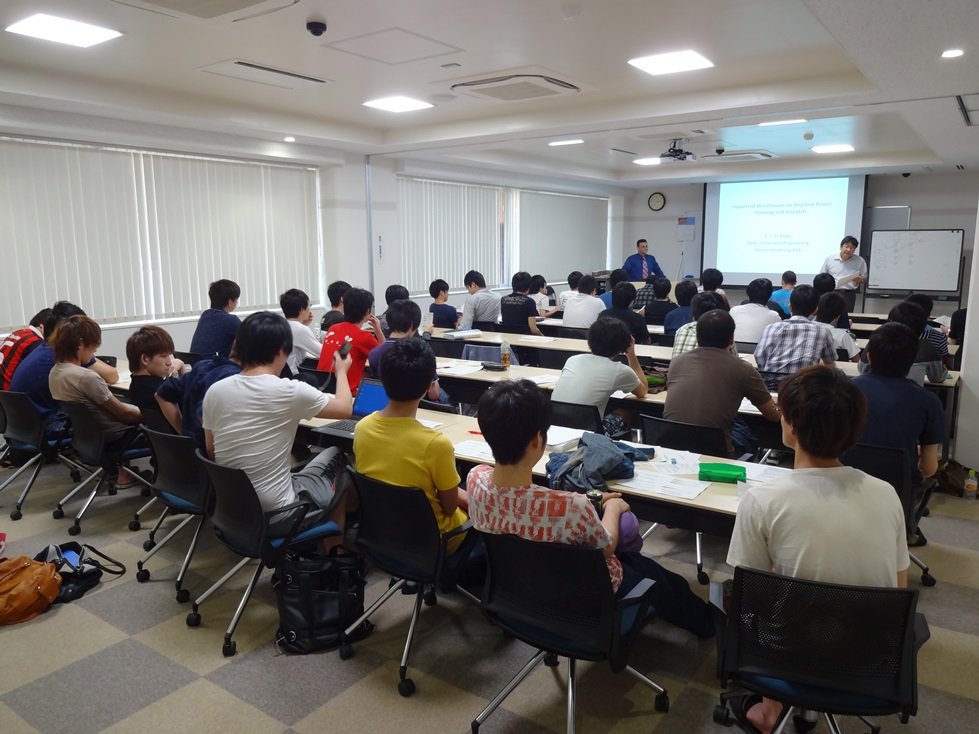 【The 19th】
Title:Community Development and Town Managementin Higashi-Hiroshima
Date& Time:Thursday, July 31, 2014 14:35-16:05pm
Venue:B3-220 Lecture Room, Graduate School of Engineering, Hiroshima University
Speaker:Takeo Kaguri, "Current Status and Future Issues in Higashi-Hiroshima"
Yoshiyuki Date, "An Approach to Town Development in Higashi-Hiroshima"
The seminar was held in Japanese with simultaneous interpretation into English.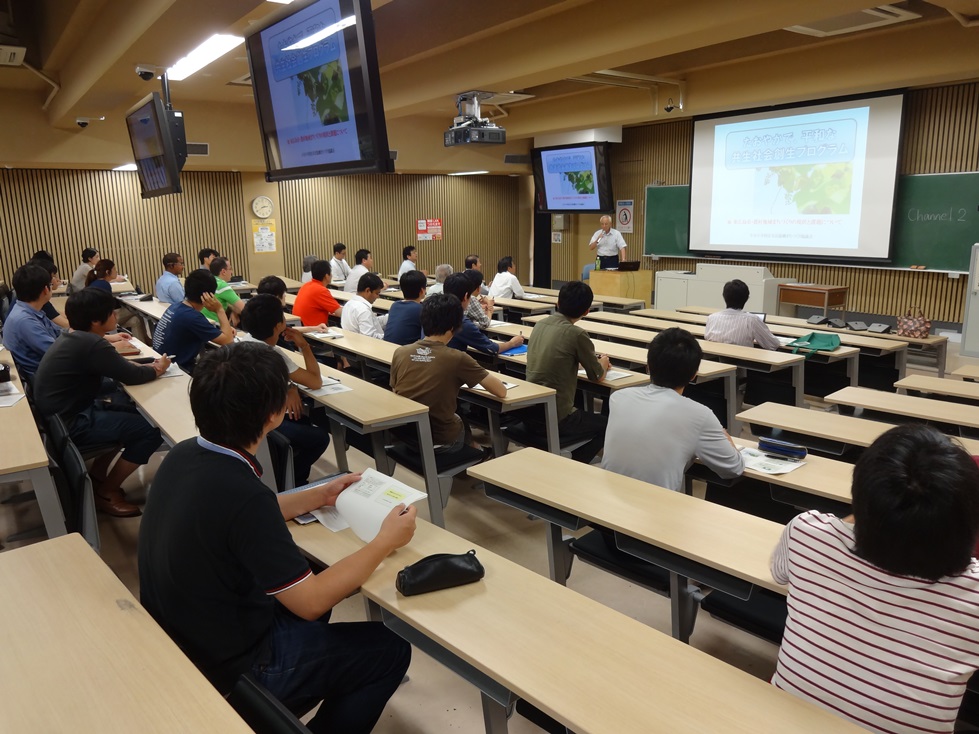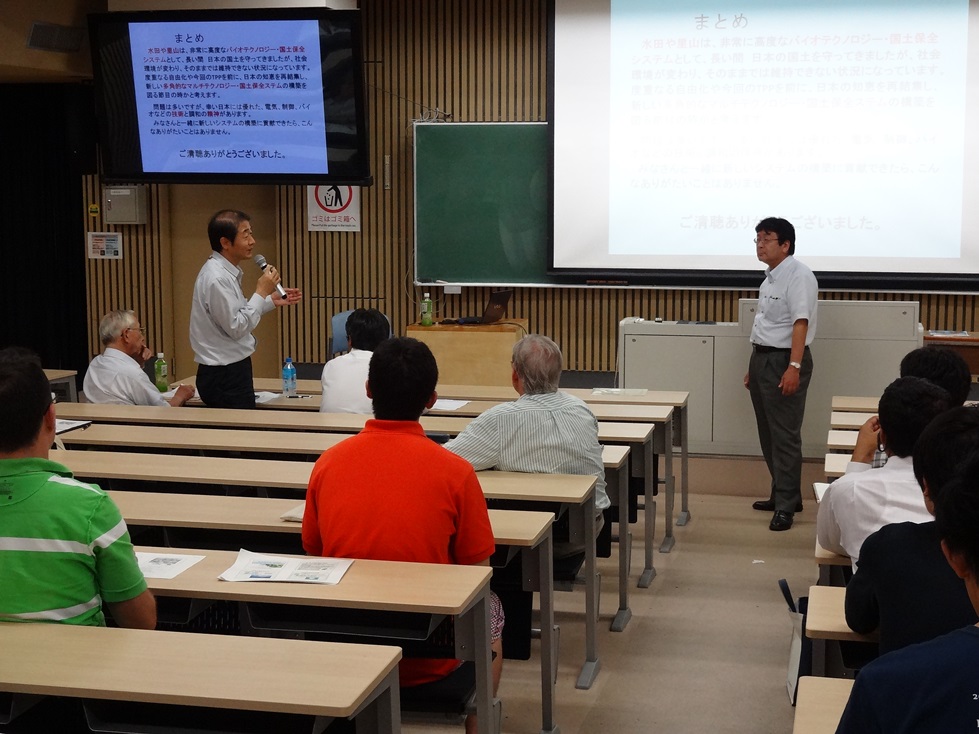 Students and staff of TAOYAKA Program and Phoenix Leader Education Program attended memorial ceremonies at Hiroshima city on August 6th.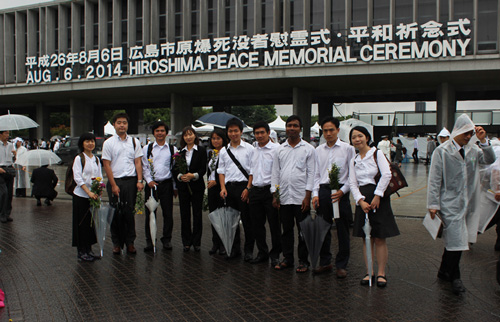 Taoayaka students attended "Peace and Security" (Intensive course) on August 1, 2 in 2014.
Lecturer : Tsuneo Nishida (Institute for Peace Science, Hiroshima University)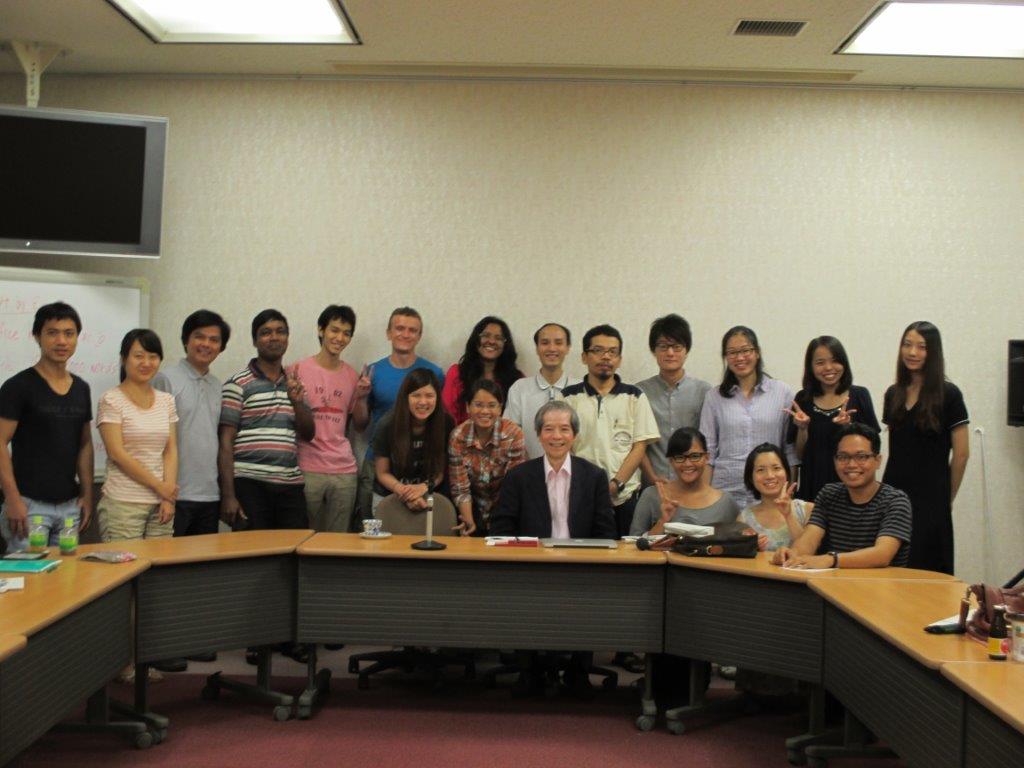 The 17th TAOYAKA Program Seminar was held on July 22
Title: Professional Skills Useful for Fieldwork in Developing Nations and Strategies for Raising Funds to Support International Fieldwork
Date & Time: Tuesday, 22 July2014 16:20-17:50pm
Venue: Taoyaka Classroom(2F Daigaku Kaikan)
Speaker: Professor David J. Eaton (LBJ School of Public Affairs, The University of Texas at Austin)
The seminar was held in English.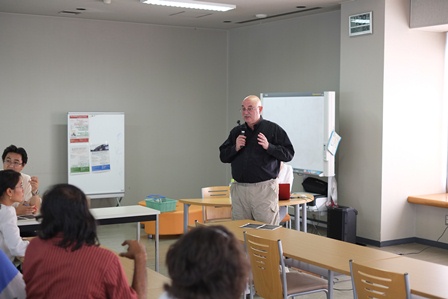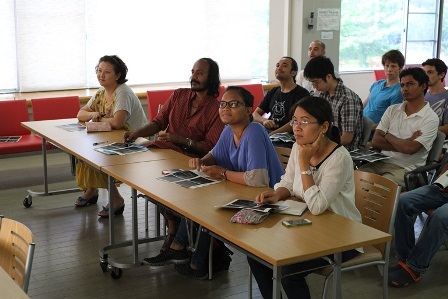 The 16th TAOYAKA Program Seminar was held on Wednesday, July 16
Time: 14:30-16:00pm
Venue: IDEC 405
Speaker: Professor Ruby Sain (Department of Sociology, Jadavpur University, Kolkata, India)
Title: The Relevance of Folk Religion in Modern India
Abstract: Since July 1991 the Indian society has been restructured in psychological, social, economic, political, administrative and policy related issues but the importance of folk religion never declined as this was in the past. Rather resurgence of religion and folk religion is more important in the present context. In fact Folk Religion is transmitted by the common people in any region, place or country from generation after generation and it has great impact upon the political, economic, and cultural development of particular region and continues to satisfy the emotional and religious needs of the people. The present researcher would like to highlight the sociological reasons of Indian scenarios.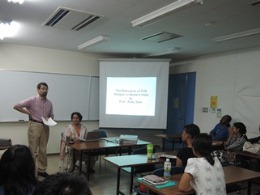 Taoyaka Students visited
Hiroshima Peace Memorial Park.
As a part of Onsite Course Rotation, Taoyaka students visited Hiroshima Peace Memorial Park and Hiroshima Peace Memorial Museum on July 4th.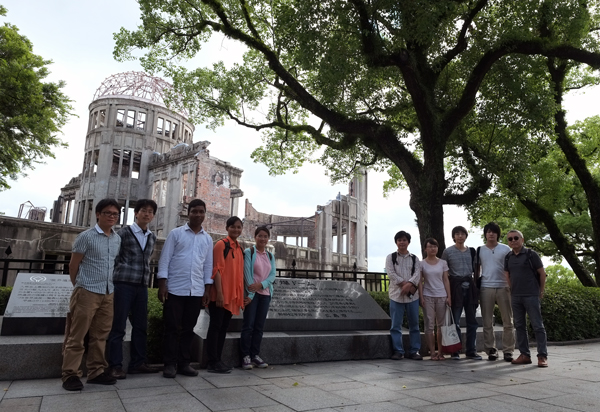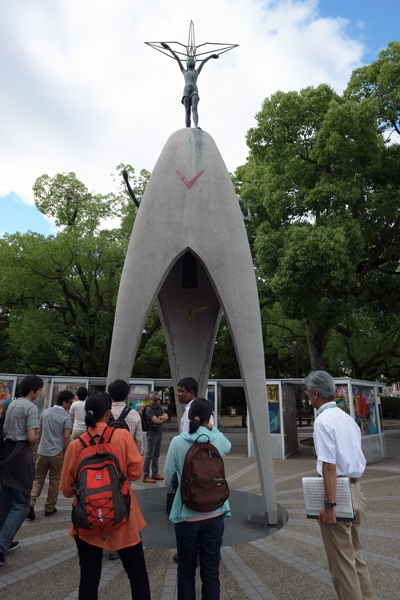 Flexibility, Endurability, and Peace – TAOYAKA Program Newsletter Vol.1 / Spring 2014 is now available.
Please download: PDF
For past news, click here
The 15th TAOYAKA Program Seminar / The 272nd IDEC Asia Seminar was held on Wednesday, June 18th.
Title: "Disaster Management: Challenges and Opportunities in India"
Speaker: Mr. Vikas Lakhani (Deputy Director, Gujarat Institute of Disaster Management Gujarat, INDIA)