News
The 2nd Hiroshima University Symposium on SDGs
The 6th Taoyaka Program International symposium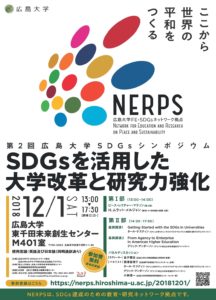 The 2nd Hiroshima University Symposium on SDGs: The Nexus between Global Goals and Research Enhancement through University Reforms will be held as follows. This is also the 6th Taoyaka Program International symposium. In this symposium, we host leaders in their respective fields from universities and institutions to intellectually promote and openly discuss our university reforms, enhancement of research, and the development of a new type of collaborative environment centered around the university, together with a collective pursuit of universally effective SDGs. This event is open to all.
Date:Saturday, December 1st, 2018 13:00-17:30
Venue:Lecture Room M401, Higashi-Senda Innovative Research Center (Directions)※
Language:Japanese and English (Simultaneous translation provided)
Admission:Free (Online registration from the symposium website)
Organizer:Hiroshima University Network for Education and Research on Peace and Sustainability, Hiroshima University TAOYAKA Program for Creating a Flexible, Enduring, Peaceful Society
Co-hosted by:The Japan Association of National Universities, Hiroshima University Institute for Higher Education, and United Nations Institute for Training and Research
Endorsed by:Hiroshima Prefecture
Cooperated by:Japan International Cooperation Agency Chugoku Center
※Shuttle bus will be available between the Higashi-hiroshima campus and Senda campus.
Outward: 11:30: 2F Main entrance of Hojin-honbu-mae → 11:40: Daigaku-kaikan-mae → 12:30: Senda campus
Homeward: 17:45: Senda campus → 18:45: 2F Main entrance of Hojin-honbu-mae → 18:55: Daigaku-kaikan-mae
(Please note that the bus may be slightly delayed by the traffic conditions)   
Program
▼【Part 1】13:00-14:00
Opening Remark
Mitsuo Ochi, President, Hiroshima University
Congratulatory Speech by MEXT
Mitsuhiro Ikehara, Ministry of Education, Culture, Sports, Science and Technology
3rd Peace Lecture Marathon
 Honorary Distinguished Professor Award Ceremony
Special Lecture: H. Murat Mercan, Ambassador, Embassy of the Republic of Turkey
▼【Part 2】14:20-17:30
Video Message
Implementing SDGs Through Universities
Paul Shrivastava, Director, Sustainability Institute, The Pennsylvania State University
Keynote Speech 1
Achieving the SDGs – The role of universities and research
Tahl Kestin, Research Program Manager, Monash Sustainable Development Institute, Monash University
Keynote Speech 2
From Agency to Enterprise in American Higher Education
Derrick M. Anderson, Advisor to the President, Office of the President, Arizona State University
Panel Discussion
The Nexus between Global Goals and Research Enhancement through University Reforms
Moderator:Shinji Kaneko (Professor, Graduate School of Int'l Development and Cooperation, Hiroshima University)
Panels:
– Mariko Nishizawa (Project Coordinator, Peace Promotion Project Team, Hiroshima Prefectural Government)
– Tahl Kestin
– Derrick M. Anderson
– Shinichi Kobayashi (Director, Research Institute for Higher Education, Hiroshima University)
Closing Remark
Yohsuke Yamamoto, Executive and Vice President for Research, Hiroshima University
Contact:Research Planning Office, Hiroshima University
email:ura@office.hiroshima-u.ac.jp
Prof. Kazuo Tomozawa will appear on "NHK High School Lectures ~Geography " on Friday, November 30th.
(This program will be in Japanese)

[Air Date&Time] Friday, November 30th 2018  2:40PM-3:00PM
[Station] NHK E-television
[Program] "NHK High School Lectures ~Geography" (NHK高校講座 地理)

the program's website (Japanese Only)
Completion ceremony was held on September 20th