Miyu Sakamoto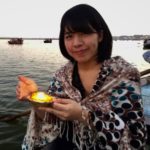 Name: MIYU SAKAMOTO
Department: Graduate School of International Development & Cooperation
Course: Social Implementation
Research Field: Economy
Supervisor: Prof. Yuichiro Yoshida

Career and Academic Background before TAOYAKA Program
I graduated Hiroshima University in 2017 and directly came to postgraduate school of Hiroshima University and join Taoyaka Program. I studied social science on bachelor.
Research Plan in TAOYAKA Program
In Taoyaka Program research, I plan to conduct a comparative study of education returns on income in developing country. I would like to compare the differences of students' future career and income between students who receive scholarships and students who do not receive scholarships for junior high schools in Lao rural areas, which is supported by Japanese Public Interest Incorporated organization. By analyzing the effect of poverty reduction on scholarship support, I would like to propose a more effective educational support policy for poverty reduction.
Career Plan after TAOYAKA Program
In the future I would like to contribute to save children all over the world. Achieving this goal I think what is an important is to solve the structure of the circle of poverty, and I would like to play a role in planning and implementing policies. Though Taoyaka Program, I would like to learn how to integrate solutions from different fields and create one initiative solution. We can exchange our ideas and get more diversified perspective and flexibly.