Onsite Education
Onsite Course Rotation (D1)
Students will participate in Onsite Visits held at research sites of the three courses: Cultural Creation Course, Technical Creation Course, and Social Implementation Course. Through the Onsite Visits, students will raise their awareness on problems that each region confronts. Students will find issues based on the perspective of the each course, and they will play active roles in debates on how to solve the problem.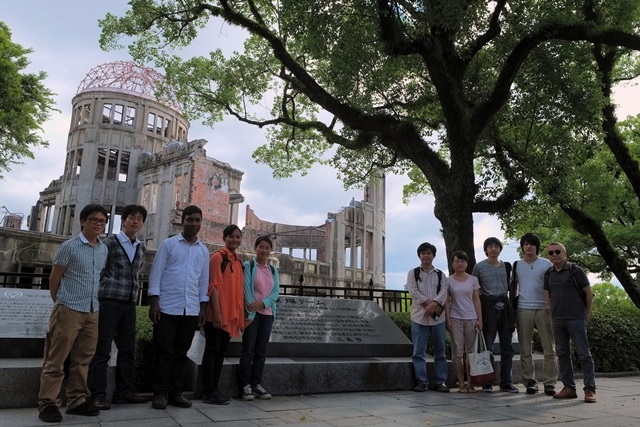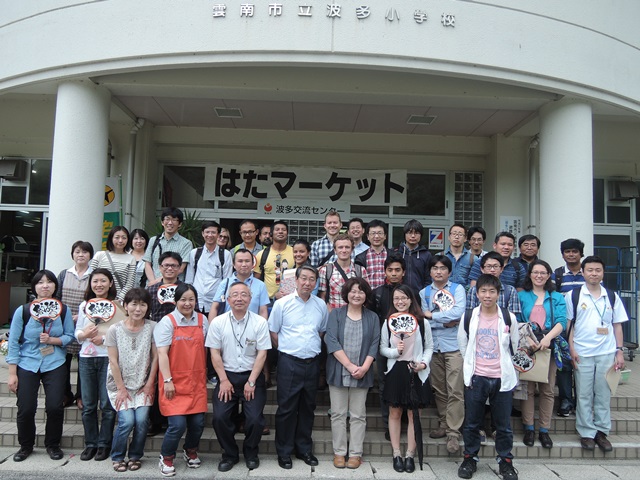 Academic Year 2019
Technology's Role in Achieving the SDGs (Online)
Dealing with depopulation in rural Japan: Tobishima life-facilitating immigration to Tobishima Kaido island – 12/24: Shimo-Kamagarijima, Oosaki-Shimojima
Academic Year 2020
Demand Responsive Transport – 6/26: Higashi-Hiroshima
A Nexus between the Technology and Culture: A Preservation of Technology/Culture for Regional Revitalization – 10/16: Kita-Hiroshima
Academic Year 2019
Participatory Forest Management for Local Revitalization (Social Implementation) – 7/5: Kitahiroshima
Revitalization of Local Communities through Tourism (Culture Creation) – 10/18: Ohkunoshima, Takehara
Health monitoring of bridge infrastructures (Technical Creation) – 12/13: Higashi-Hiroshima
Onsite Training (D1-D2)
Through participation in an onsite team project and short stay in a disadvantaged region either in Japan or overseas, students will learn about specific cases. Through this, they will learn basic thought processes and approaches to address the cultural features specific to regional societies and overcoming technical issues. The students will experience two or more multicultural coexistence issues and summarize their results as a case study, working as a team with students from different fields. The case studies thus completed will be retained as new educational materials.
Academic Year 2020-2021
Perception towards and adaptation to climate change by family/small farms in Americas and Asia (Online,March to August 2021)

Birla Institute of Technology and Science Pilani, Tribhuvan University, The University of Texas at Austin
Academic Year 2019
Optimizing tourism development at a small island community (Mitarai community,2019/8/18-25)

The University of Texas at Austin, Doshisha Univeristy, Indian Institute of Management Ahmadabad, Birla Institute of Technology and Science, Goa
Beach Tourism- Creating Stakeholder Value and Ensuring Environmental Sustainability (Goa, 2020/2/11-21)

The University of Texas at Austin, Indian Institute of Technology Delhi, Indian Institute of Technology Bombay, Indian Institute of Management Ahmedabad, Birla Institute of Technology and Science Pilani, and Doshisha University
Internship (D1-D5)
Students will participate in long-term internships at affiliated companies, international bodies, NGOs and other organizations. Through their internships, students will find issues onsite, and learn about possible resolutions for such issues as well as methods to practically and comprehensively make use of the knowledge they have obtained at university. When the program student conducts internship, the program will cover partial or full transportation expenses. (maximum 150,000 JPY/FY2020)
Japan

Gunma University, KEISOKU RESEARCH CONSALTANT CO., The Institute of Livestock and Grassland Science, Nagasaki Universitym, Keio University, Graduate School of Media Design, Kumamoto University, Sony LSI Design Inc., Tokyo Metropolitan University, Food Hub Project Inc., Kobelco Construction Machinery Co., Kumamoto University, KOBELCO Construction Machinery Dream-Driven Co-Creation Research Center
India

Indian Institute of Technology Bombay (IITB), CSIR Central Mechanical Engineering Research Institute, Indian Institute of Engineering Science and Technology Shibpur, CSIR-Central Electronics Engineering Research Institute, Central Himalayan Rural Action Group, Toshiba India Private Limited, Central Electronics Engineering Research Institute, National Environmental Engineering Research Institute (NEERI)
Thailand

Mekong Tourism, United Nations Economic and Social Commission for Asia and the Pacific (UNESCAP), JICA Thailand Office, Institute of Policy and strategy for agriculture and rural development, Hanoi Vietnam, Phuket Community College, Prince of Songkla University, Kasetsart University, Surin Provincial Administrative Organization
Vietnam

Institute of Policy and Strategy for Agriculture and Rural development(IPSARD), Nippon Koei International Co., Ltd, Sustainable Urban Development Joint Stock Company, Suleco Company
China

Chinese Academy of Sciences, Hong Kong Polytechnic University, Institute of Automation, Chinese Academy of Sciences
Others

Monash University, Caulfield campus(Australia), Education for Sustainability center, Tasmania(Australia), Grameen Shakti(Bangladesh), University of Waterloo(Canada), UN Mandate University for Peace(Costa Rica), Winnefeld & Raymond(Kenya), Zay Ya Trading Co., Ltd(Myanmar), Bhaktapur Tourism Development Committee(Nepal), FORWARD(Nepal), International Institute for Animal Ethics(Netherlands), Peace Foundation NZ / Aotearoa(New Zealand), Development Action for Women Network(Philippines), Tebo Inc.(Taiwan), LbE Hawaii LLC (U.S.A), Blue Forest, Bambubos (Indonesia)
Onsite Team Project (D3-D4)
Students from three different courses will form teams, to plan and implement an onsite team project based on their own unique ideas, in which they will receive support from industry, academia and government as well as the field network. In this project, the students from different courses will bring together their respective specialist knowledge to try to resolve multicultural coexistence issues. Support for the onsite team project will be provided by a field network comprised of members of Hiroshima University's regional research and international cooperation disciplines, as well as the semi-conductor consortium and other corporations.
Flow of Onsite Team Project
Teaming
Kickoff, Preliminary survey, Research planning
Field study
Analyze
Develop and Improve
Feedback
International Work shop
Recent Onsite Team Project
Team 20: Reinforcement of elderly communities by analyzing Locomotive Syndrome (LS) in Higshi-Hiroshima
(Oct. 2021 – Sep. 2022)
Team 19: Cultural mapping of Jambulipo Kingdom- An initial project for the development of cultural tourism
(Apr. 2021 – Sep. 2022)
Team 18: Iwami Kagura of Shimane: Intangible culture heritage as a tourism assert for sustainability?
(Nov. 2020 – Sep. 2022)
Team 17: Empowerment as a Factor of Student Migration: Action Research in Myanmar
(Oct. 2019 – Feb. 2022)
>> Go to Previous Onsite Team Project