MORI Ryosuke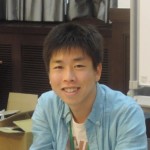 Name: MORI Ryosuke
Department: Graduate School of Letters, Division of Humanities
Course: Culture Creation Course
Research Field: Human Geography
Supervisor: Prof. OKAHASHI Hidenori
Career and Academic Background before TAOYAKA Program
I was learning international economics at Shimonoseki University in Yamaguchi Prefecture. Also, I belonged to British Culture seminar to study its social problem, because Britain has many similar points with Japan. In those days, I enjoyed bicycle trip around Japan and think about how we can retain traditional culture and lives of disadvantaged area in Japan because I was impressed by its residents, culture and environment.
After graduation, I have got into a local bank and experienced many things like financial knowledge, building of trust with customers and local people and offering appropriate answer for them. Moreover I started to join some private organization of Shimonoseki that try invigorating local communities.
However I wished to find good solutions for disadvantaged areas by participating many local activities and communication with people. So I quit my job and decided to study again.
Research Plan in TAOYAKA Program
Today many disadvantaged areas are facing a lot of and diverse problems like population outflow, aging, natural hazard, lack of infrastructures and so on. And as the one viewpoint to approach these problems, now I am focusing on the rural community resilience. This means the adaptability or flexibility of rural community for changes from internal and external situation. I think we should enhance resilience to make sustainable community because some rural areas are lack of such functions. So now I'm trying to identify how we can improve it.
And currently, I'm engaging the researches about some new rural activities in Japan and "the Sixth industry" is one of them. This is the integration of primary, secondary and tertiary industries mainly by rural farmers and I want to show its effects for rural resilience. And also I will engage a survey about a new rural activity in India which also has a lot of disadvantaged regions. I want to find good way to make rural communities sustainable in both developed and developing countries.
Career Plan after TAOYAKA Program
After my graduation, if possible, I want to become a university teacher of human geography and lead students to work at global and local situation by working as the mediator between university, rural areas and foreign countries. Also I will continue to join the local activities to know actual situations and find out problems and solutions. I think this is the duty for Taoyaka students and important for the world.