Nguyen Van Hoang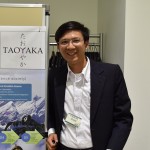 Name: Nguyen Van Hoang
Department: Integrated Arts and Sciences
Course: Cultural Creation Course
Research Field: Pro-poor tourism in disadvantaged regions
Supervisor: Carolin Funck

Career and Academic Background before TAOYAKA Program
After graduating from the Faculty of Geography, University of Social Sciences and Humanities, Ho Chi Minh City, Vietnam in 2001, I was employed as an assistant lecturer and studied as a Master student there. I hold a Master degree in Natural Resources Management and a Bachelor degree in Tourism Geography. Thus, I started my career at the same university where I graduated and I was involved in teaching for more than 10 years before joining the Taoyaka program. During my career, and based on my academic background I mainly taught subjects and conducted research related to sustainable tourism development. In doing research, my research interest focused on tourism planning and tourism carrying capacity assessment for marine tourism in coastal areas as well as in remote islands. Therefore, I have obtained the fundamental knowledge and skills necessary for developing sustainable tourism in disadvantaged regions. Hopefully, my research interest will be continuously developed as a Ph.D. student of the Taoyaka program.
Research Plan in TAOYAKA Program
Through the Taoyaka program, I would like to apply new knowledge and methods gained from the courses to conduct my research on pro-poor tourism development in disadvantaged regions, and compare developed countries and developing countries. This research aims to compare pro-poor tourism among developing countries in order to find out the similarities and differences as well as to create concepts of pro-poor tourism for developed countries. In addition, pro-poor tourism could be considered as a category of sustainable tourism development. Therefore, the findings from this research will not only help to gain lessons learnt among countries but also which lessons can be exchanged with each other and applied to solve the problems facing disadvantaged regions from the cases of Vietnam, Nepal, and Japan.
Career Plan after TAOYAKA Program
After graduating from Taoyaka program, as a lecturer and researcher at the university, I would like to share the obtained knowledge and skills with my colleagues and students through teaching, doing research and holding academic seminars. Besides, based on the knowledge and practical experiences gained from this program, I would like to contribute to the development of disadvantaged areas in Vietnam through joining projects on regional development of the Vietnamese government. Moreover, I also would like to participate in international conferences about regional development and join in projects on community development conducted by NGOs to apply knowledge and skills to contribute to development in other disadvantaged regions in South Asia or Southeast Asia nations.