Qu Meng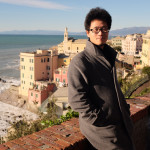 Name: Qu Meng
Department: Graduate School of Integrated Arts and Sciences
Course: Cultural Creation Course
Research Field: Human Geography
Supervisor: Professor,Carolin Funck

Career and Academic Background before TAOYAKA Program
Career
2016 – 2010, Creative Star Technology Development Co,. Ltd (Shanghai), Assistant General Manager (2009-2010), Project Manager (2007-2009), Media Director (2006-2009), museum and interaction design (including 6 national pavilions in Shanghai EXPO 2010), working between Shanghai and Beijing.
2010 – 2012, Moon Culture and Communication Co,. Ltd (Shanghai). Deputy General Manager
2010 – 2013, Xucun Art Commune (NPO), Academic Secretary, Rural revitalization through contemporary art festival in Xucun village, Shanxi Province, China.
2012, TEDx, "Factory 798-City 2.0" event, UCCA (Ullens Center for Contemporary Art), 798 Art District, Beijing, China
2012, "The 3rd Art and Science International Exhibition", as Artist, China Science and Technology Museum, Beijing, China
2013, "BarCamp 2013" Speech, Topic: "Augmented Future: Mobile New Media and Technology blur the line between the Physical world and Digital world." Microsoft Research Asia, Beijing, China
2013 – 2015, KEMCO (Kotobuki Solution Co., Ltd.) Higashihiroshima Studio, Mobile Game Movie & PV Designer
2015, Earth Dreamer, Art Designer, Regional creation project with Earth Bag House in Fukutomi-cho (Cadore), Japan
Academic
2008 – 2012, Study Art Design in Fine Arts Academy of Shanghai University, Bachelor of Arts
2013 – 2015, Research "Aesthetic Experiences in Augmented Reality Art", The Graduation school of Integrated Arts and Sciences, Hiroshima University, Master of Arts
Research Plan in TAOYAKA Program
Title (tentative): The Contemporary Art Intervention for Revitalizing Rural Communities
Through history changes, the development of the rural place is following the way of nature. Local people rely on the nature to live as well as they obtain resources from natural ecosystems. Contemporary art engages with revitalizing rural communities, it not only brings the beautiful artworks, museum design and leisure sightseeing, but also trigger people thinking and attempting to actively promote the relation between our nature environment and sustainable society. Try to ease the 'depopulation of the psyche' (Susanne Klien 2010).
Although we cannot treat contemporary art as a nostrum for revitalizing all rural communities. Through this research, at least we will have a clear judgment for what type of rural place has the right condition allow contemporary art to intervene with. Aging, depopulations, stagnation, and empty nest phenomenon are global issues for the rural areas. We assimilate the success contemporary art project cases in Japan that use for reference a suitable sustainable mode for revitalizing the rural communities in Nepal. Combined the good mode of contemporary art intervention with the advantage of rural local highlights, present culture tourism scale from local standard up to international level.
Career Plan after TAOYAKA Program
The cultural creation course of TAOYAKA program is committed to cultivate talent to a Cultural Creation Innovators. For myself, become an international NGO leader, an academic secretary in NGO, or a Teacher are options for my future career plan. Those possibilities all included in the career plan of TAOYAKA program.
 I believe that through the study with Multifaceted Thinking, Autonomy, Execution Ability and Creativity. Under the subject of Peace, I will do my best for creative efforts on build a flexible, enduring, and peaceful society of coexistence.