Shikainnah Glow D. Meñoza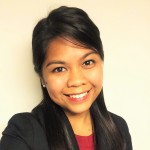 Name: Shikainnah Glow D. Meñoza
Department: Graduate School for International Development and Cooperation, Cultural and Regional Studies
Course: Cultural Creation Course
Research Field: Cultural Anthropology
Supervisor: Associate Professor Koki Seki

Career and Academic Background before TAOYAKA Program
I got my Bachelors Degree of International Studies Major in Japanese Studies and Language in Mindanao Kokusai Daigaku, Davao City, Philippines in 2013.
Even before, it has always been my desire to be a student leader. In 2010, I joined an exchange program called JENESYS (Japan-East Asia Network of Exchange for Students and Youths) where Filipino youths were invited to Japan with a view towards promoting mutual understanding and friendship with Japanese youths. In 2011, I participated in a convention of youth leaders (National Youth Parliament) wherein policy recommendations are formulated to address youth issues in the Philippines. In the following year, I had my On-the-Job-Training at Terumo Philippines where I was able to work with Japanese people and there, I had witnessed their hard work which is salient to their culture. Through involving myself in these activities, I was awarded as the Most Outstanding Student and received my Leadership Award in 2013. Right after graduation, I was recommended to pursue further study in Poole Gakuin University in Osaka, a sister school of my university. For 2 years, I have affiliated myself in service learning to support students with Filipino roots studying in Japanese elementary schools.
Research Plan in TAOYAKA Program
Through TAOYAKA Program, I want to mould myself even better in multifaceted areas that contribute to a sustainable society. My research deals with Japanese-Filipino families in rural areas both in the Philippines and Japan with the hopes of strengthening the relationship of two countries. Nowadays, Japan is facing a demanding phase in integrating multiculturalism in its once closed society and I believe that Japan has to deal with these manifold challenges. As transnational migration is likely to increase and the number of children of mixed ethnicities rises, Japan has to adapt these changes and integrate new set of policies to cater the needs of people who are products of migration.
Career Plan after TAOYAKA Program
Through a global approach of TAOYAKA Program, I have aspired to share the knowledge, skills and capabilities I had gained throughout the program to other people. I would want to involve myself in the academe in the near future. After I have fulfilled my academic requirements in Hiroshima University and get my PhD, if given a chance, I would want to work in a university in Japan as a professor. Also, I would want to contribute to the development of my country, the Philippines, especially my home town, Davao City. I would go back to the Philippines and will work in a Philippine university. I would like to dedicate my time and effort in helping the people of my community through global awareness. I would teach and share my expertise to those who I think are capable of changing our world to make this a better place to live in. I believe that my contribution, though little, would mean greater for the children of our next generation. To apply for a work in Philippine Embassy in Japan is also in future plans.