Teguh Nur Rohman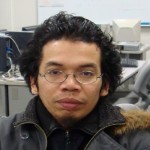 Name: Teguh Nur Rohman
Department: Graduate School of Biosphere Science
Course: Technical Creation Course
Research Field: Study on application of fertilizer to enhance Nori growth.
Supervisor: Professor, YAMAMOTO tamiji

Career and Academic Background before TAOYAKA Program
Prior to joining the Taoyaka Program, I was a Teacher in a Technical High School, with the responsibility of the Curriculum Planning Division. My undergraduate education background was Electrical Engineering from Semarang State University. Instead of teaching in the Electrical field, I was also concerned about environmental issue in my surrounding area, especially the beautiful city of Wonosobo regency in Central Java, that faces environmental deterioration in recent years. I did my first Master of Engineering in Municipal Waste Management, Mechanical Engineering Department at Gadjahmada University. This master degree also broadened my view of environment to see that it does not  merely consist of the terrestrial environment but also the marine environment.
Research Plan in TAOYAKA Program
With great curiosity about how to manage earth as a whole entity, I entered the Taoyaka Program. In the Taoyaka Program I conducted research on how to reuse some excess material or by-product that is usually unused and left over in the land, as recovery material for coastal environment improvement. The target species in my study was Nori (seaweed) which is highly consumed in Japan.
Career Plan after TAOYAKA Program
To create better environmental conditions for the next generations, after graduating from the TAOYAKA Program I will take part as a researcher for the earth's sustainability. In other words, I am eager to support environmentally sustainable development. The knowledge obtained from TAOYAKA program will provide me with skills to to develop and utilize technology for the utmost benefit of the world. Since the core concept of the program is reverse innovation and onsite-team project, it provides us with great opportunities to talk and share ideas among students from different fields as well as the local people, about local customs and wisdom, which is a good way to make a better solution for any problems we face in the future.