Thomas Michael Kloepfer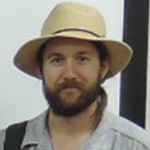 Name: Thomas Michael Kloepfer
Department: Graduate School for International Development and Cooperation
Course: Social Implementation Course
Research Field: Development Science
Supervisor: Professor, Kaneko Shinji 

Career and Academic Background before TAOYAKA Program
I graduated in 2011 from Appalachian State University in North Carolina. I received a degree in Sustainable Development: Sustainable Agriculture and Recreation Management: Outdoor Experiential Education. After graduation I moved to Japan to teach English with the JET program. I taught English for two years, and at the same time began farming on Mukaishima in Onomichi, Hiroshima. After teaching English, I decided to stay in Japan and pursue job roles geared toward sustainability. I worked as the Sustainability Manager for Baird Brewing Company and Tachibana Textile Institute. At these jobs I gained knowledge and skills regarding the growth, harvest, and production of raw materials used in the brewing and textile industries. I continue to cultivate my own farm in Onomichi, teaching, networking, and sharing my experiences and ideas regarding agriculture in Japan.
Research Plan in TAOYAKA Program
During my time in the Taoyaka program I will continue to learn about susainablity issues regarding the environment, economy, equity, and culture.  My research will be focused on hemp and its connection with Ishokuju, or clothing, food, and shelter. In many disadvantaged areas, access to basic needs are not being met, leaving many people struggling to live day to day. In my research I hope to make connections and develop solutions to these problems. Historically, Hemp has provided clothing, food, and shelter to various cultures and groups all over the world. Given recent improvements in industrial hemp production, hemp may provide affordable and appropriate solutions that disadvantaged areas are facing. It may also provide solutions to coming environmental and economic issues humanity as a whole will face in the 21st century.
Career Plan after TAOYAKA Program
After completing the Taoyaka program I hope to work on Sustainable Development Issues in Asia and in Japan. After completing the program, I believe I will have the knowledge, skills, and abilities to make many positive steps toward creating resilient and sustainable societies. I hope to partner with different organizations regarding my research on hemp and Ishokuju during the Taoyaka program. The current policy and attitudes toward hemp in our society has changed over the last 100 years. The cultural significance remains somewhat apparent in places like Japan or Nepal; however, the potential economic and environmental impact is limited to a lack of research. Our societies must development a Holistic Management Approaches toward our environment, one that is more biodiverse and inclusive. I hope to continue working on research that can improve soil quality, quality of agricultural products, the livelihood of farmers, and society. I would like to continue teaching these techniques, as well as continue researching new solutions to many of the issues facing our society.