Tomoko Oishi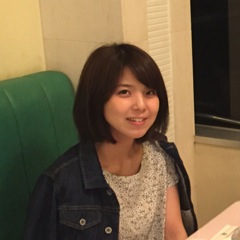 Name: TOMOKO OISHI
Department: Graduate School of International Development & Cooperation
Course: Cultural Creation Course
Research Field: Cultural Anthropology of Development
Supervisor: Associate Prof. Koki Seki

Career and Academic Background before TAOYAKA Program
I graduated from Nihon Fukushi University in Aichi Prefecture, Japan. During my bachelor degree, I majored in international social development, especially I was interested in relations between culture and development. For my research, I conducted field work in Taklang village, Surin province, Thailand where is famous as elephant village. To obtain skills to research local culture and real intention of local people, I studied Thai language and society in Chulalongkorn University, Thailand. At that time, I got opportunities to work in the field. I joined in the NGO's survey of informal education for ethnic minorities in border areas as an internship. In addition, I engaged in the agricultural development of international consultant company as Thai-Japanese interpreter. After going back to Japan, I worked in the prefectural federation of small business associations. I supported local groups and cooperatives to revitalize their community. Through these experiences, I wondered how could I support local people and community to develop their community by following the directions of development they really hope. Therefore, I decided to study in Taoyaka program.
Research Plan in TAOYAKA Program
Nowadays rural areas are facing a lot of problems like decreasing in population, low income, abandoned farmland and so on. These problems are related to the process of modernization that aim to the economic development of the country. In these circumstances, I focus on the "endogenous development". Endogenous development does not mean exogenous development that is development by outsider but means the development initiated by people in the community. Moreover the development attaches greater importance to the process of actions and decisions that follow the direction of the development people in the community hope and based on their culture and their sense of values. Therefore, this research will clarify the direction of development they hope and the process of actions and decisions. Then verify the process of the development from the perspective of cultural anthropology. In addition, I will consider the role of the direction of development people in community hope and how outsiders can assist the endogenous development.
Career Plan after TAOYAKA Program
Through Taoyaka program, I want to be a person who can continue to try and aim for community development with local people. Therefore, after completing Taoyaka program, I would like to contribute to both academic research and practice in the field of community development. Because I believe that it is important for community development that combines academic research and practice to solve their problems and share their experiences with other communities. Thus, during Taoyaka program, I want to acquire the perspective of cultural anthropology and consider the way to understand the community development. And I also would like to learn the perspectives of other courses from multidisciplinary programs in order to know how can I work in the team of the project like international development project in developing countries.