Zhang Linghan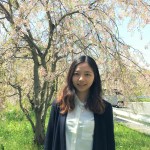 Name: Zhang Linghan
Department: Graduate School for International Development and Cooperation
Course: Social Implementation Course
Research Field: Tourism Management and Planning
Supervisor: Professor, Junyi ZHANG 

Career and Academic Background before TAOYAKA Program
I had completed my bachelor degree from 2009 to 2013 in Sichuan University in China. My major is about tourism management which is a combination of multiple subjects, like sociology, human geography, economics and history. After my undergraduate course, I went directly to Sun Yat-sen University for my master degree. There, I got systematic learning and gained academic expertise and professional knowledge in the field of tourism planning. In the last term of my study, I joined the exchange project between Girona University in Spain and Sun Yat-sen University. This six-months experience help me board my horizon and understand deeply for international cooperation. During my study, I also participated in many field studies and tourism planning projects to strength my practical skills. I kept participating in the field trip in heritage sites of UNWTO Sustainable Tourism Observatory Monitoring Program and also joined the tourism planning project in rural area of Guangdong. My previous experience helped me find my enthusiasm in tourism study of rural areas and equipped me basic knowledge for further study.
Research Plan in TAOYAKA Program
My previous study has made me aware that destination analysis is a dynamic system and whose characteristics needs to be analyzed and understood in order to better address planning and management actions. Based on this, I found an interesting phenomenon happened not only in urban areas but also in rural districts. Mobility within globalization has influenced management and development of rural tourism in many aspects. Tourism mobility not only means 'highly mobile individual' between destinations but also includes object mobility, information mobility, etc. It is closely connected to the development of the tourism destination. While current research had focused on tourism mobility issues in major cities, the social impacts of tourism mobility in rural regions are relative dearth of study. So, this research will discuss how mobility within globalization and features of rural regions will affect the management and the development of destination. Cases will be chosen in disadvantaged areas in Asian to better understand this topic. The aim of this research is to help local community establish the sustainable form of rural tourism development facing the challenges of tourism mobility.
Career Plan after TAOYAKA Program
I always wonder what person I will be in the future and why I am chasing higher education in a foreign country. In Taoyaka Program I finally find my answer. The aim of this program is to cultivate international interdisciplinary scholars and create a peaceful and enduring society. Everyone makes his/her contribution to the society especially rural regions from his/her research and future career.
So, after finishing all the courses, I want to apply what I found in my research to better address rural tourism planning. The implications gained from my research can not only used in my case study but for different rural regions in Asian. In the plan of my future career, I want to fulfill my research in other aspects to make a supplement for tourism research from a less occident-centric view and give some implications on tourism and destination development, especially in poor areas of Asian. I strongly believe that through Taoyaka Program, I could make my own contribution to the social development in rural areas and find my future direction of academic study.