Nguyen Hoang Minh Anh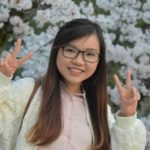 Name: NGUYEN HOANG MINH ANH
Department: Graduated School of Letter
Course: Culture creation Course
Research Field: Foreign Technical Intern Trainees in Japan
Supervisor: Prof. Tomozawa Kazuo

Career and Academic Background before TAOYAKA Program
After graduating junior high school in Vietnam, I passed to Ho Chi Minh Architectural University and studied there for about 2 months. But around the same time, I was selected for a scholarship to study in Japan for one year, so my main focus had shifted to learning Japanese. After 3 months learning Japanese in Vietnam, I came to Japan in March 2012, entered to the Japanese language course of Hiroshima YMCA college. I learned Japanese for 2 years and entered to Hiroshima Shudo University, majoring in Sociology. I graduated university in March 2018 and then applied to Taoyaka program.
Research Plan in TAOYAKA Program
My research in Taoyaka focuses on the living and employment situation of Foreign Technical Intern Trainees (FTIT) in Japan. The reason why I was interested in this subject is in recent years, Japan has been facing the challenge of increasingly aging population, demographic decline and low birth rate. Therefore, through the Foreign Technical Intern Trainee program, Japan have been recruiting a large number of foreign technical trainees from various developing countries. There are emerging issues associated with migrant worker, particularly the cultural differences, working and employment conditions, and social problems. I plan to conduct this research in Hiroshima prefecture, where the number of FTIT is rapidly increasing. Interviews and a questionnaire survey will be implemented, focusing on FTIT, employers and Labor union. The research outcomes will contribute to the improvement of FTIT's living and working condition, and policy discussion regarding the Foreign Technical Intern Trainee program.
Career Plan after TAOYAKA Program
My future plan after graduating Taoyaka program is going back to Vietnam, find a job related to education and continue my research. I want to work for educational projects that can utilize my professional knowledge and abilities to improve the educational conditions in my own country, especially disadvantaged regions. Before that, I will continue to learn through study as well as field work in Taoyaka program. Moreover, I will try to understand the regional society and culture, and accordingly develop technologies and implement these for resolving the problems faced by disadvantaged regions in my country.