PINAR TEMOCIN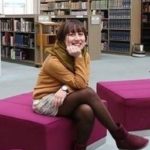 Name: Pinar Temocin
Department: Graduate School for International Development and Cooperation, Program in Development Science
Course: Social Implementation
Research Field: State-Society Relations on the Environment and Energy Issues
Supervisor: Professor, Noriyuki Kawano

Career and Academic Background before TAOYAKA Program
My academic background began in engineering and philosophy in Turkey and Germany. After completing the undergraduate degree, I had decided to pursue a career in environmental politics and sociology. I hold my MA degree in Comparative Politics in France. Before the program, I got involved in several internships, projects, and voluntary works on politics, environment, and international relations at various organizations and institutes including those in Ankara, St. Petersburg, Prague, and more. My interest and enthusiasm for interdisciplinarity led me writing policy papers, opinion pieces, as well as theses on existentialist cinema and anti-nuclear activism.
Research Plan in TAOYAKA Program
While being a Taoyaka student, I participated in multidisciplinary projects in Japan, South Korea, India, Nepal, Vietnam, New Zealand, and the United States. It all helped me not only to see the community issues but also to analyze the current global issues when looking at the big picture. My main focus for the doctoral research project is on environmental civil society engagement in post-Fukushima Japan to find out how environmental actors mobilize political institutions to further their goals toward a nuclear-free policy and a shift toward renewable energy alternatives in Japan. I investigate public preferences, and public actions taken in response to environmental issues and policy decisions. I also seek to bring attention to the diverse ways in which environmental civil society operates, the forms it takes, the approaches it embraces, and the effects it has on the Japanese society.
Career Plan after TAOYAKA Program
After the completion of my doctoral studies, I would like to continue to do research as a postdoctoral fellow. As I very much value an interdisciplinary outlook in my work, my ultimate goal is to analyze complex socio-environmental phenomena with different perspectives. Through the prospective research projects, I would like to support and work with/for advocacy communities and environmental organizations that address the most urgent and current issues of our contemporary society concerning the social and ecological crisis.
Her interview with HU

Voices from Abroad: Pinar Temocin, "A Life with Art and Politics"