News
The 26th and 27th Taoyaka Program Seminar were held
【The 26 th Taoyaka Program Seminar】

Time and Date: 10:00~11:30, November 13, 2014
Title: Management of Technologyin Indonesia
Lecturer: Dradjad Irianto,Professor of Bandung Institute ofTechnology
Venue: Middle Meeting Room(A1-141), Graduate School of Engineering
Language: English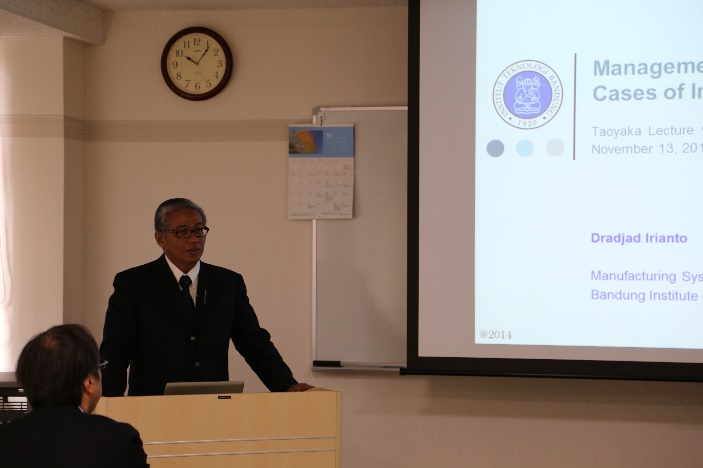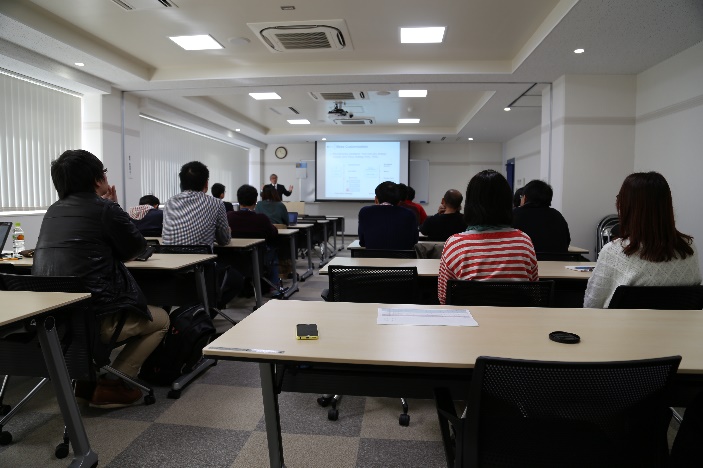 【The 27 th Taoyaka Program Seminar】
Time and Date: 13:00~14:30, November 12, 2014
Venue: Middle Meeting Room(A1-141), Graduate School of Engineering
Lecturer: S. Paul Sumitro (President of SMARTSENSYS)
Title: From Engineer to Entrepreneur
Language: English
Object Persons: Teachers and Students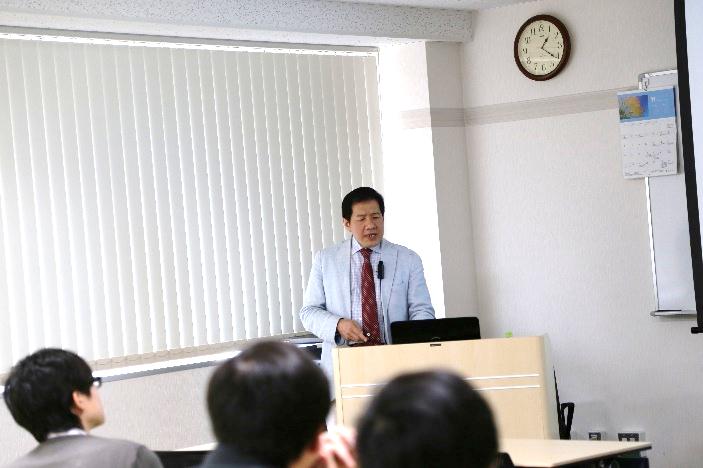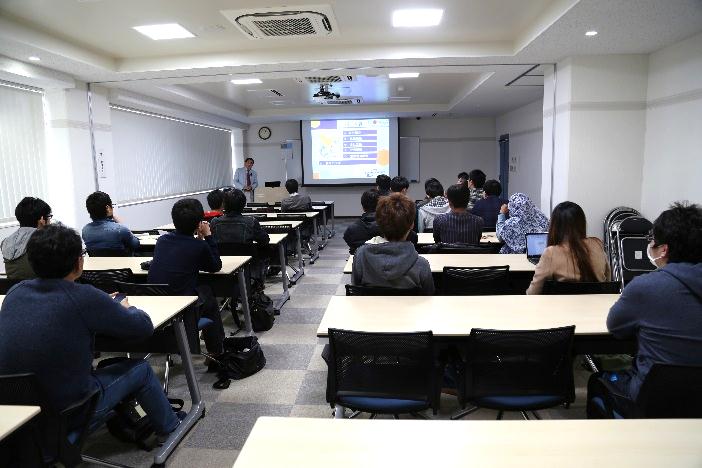 The 25th Taoyaka Program Seminar was held
Time&Date: Wednesday, November 5th, 2014 13:00-14:30
Title: Some Industrial Aspects of Systems Engineering
Lecturer: Albert B.Gilg Prof.Dr.Dr-Ing.h.c Siemens AG & TUM,Munich/Germany 
Venue: Graduate School of Engineering, Middle Conference Room A1-141, Hiroshima University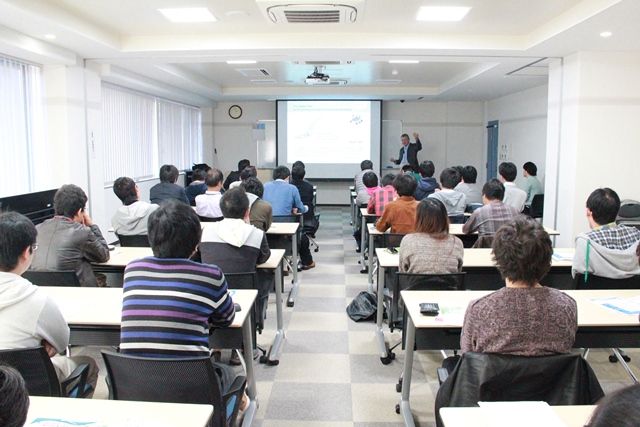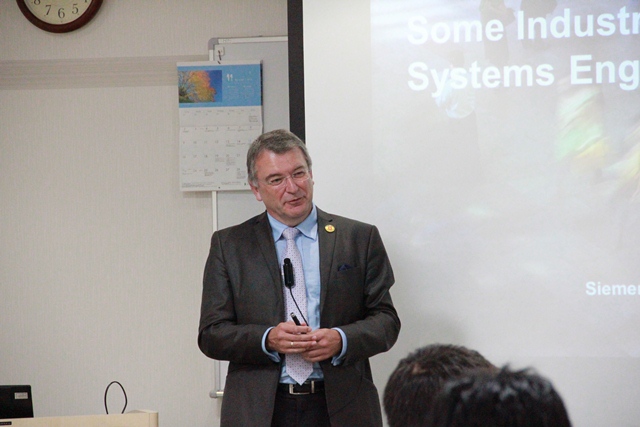 TAOYAKA Program held the 1st International Symposium "Toward a Multicultural-Coexistence Society" on November 2nd, 2014.
At the symposium, Program Director Masaki Sakakoshi gave an opening address, and MEXT Higher Education Bureau University Promotion Division Chief Tomoka Satomi delivered a guest speech. Hidenori Okahashi Program Coordinator explained the outline of TAOYAKA Program. Two keynote lecturers were present at the symposium. Mr. Shinya Ominami (Director, NPO Green Valley Inc.) gave a lecture titled "Kamiyama Project – for establishing a high-quality and creative place," and introduced the NPO's activities to revitalize Kamiyama, a town in Tokushima Prefecture where depopulation is progressing, with cases of young people moving to Kamiyama and an enterprise opening a branch office in Kamiyama. Ms. Hiromi Tengeji (Representative, Kopernik Japan) gave a lecture titled "How to distribute technologies to last mile communities in developing countries" and introduced projects run by the organization to distribute low-cost technologies having appropriate qualities to recipients in less-developed countries facing various issues.
An active discussion was led among the two lecturers and TAOYAKA students.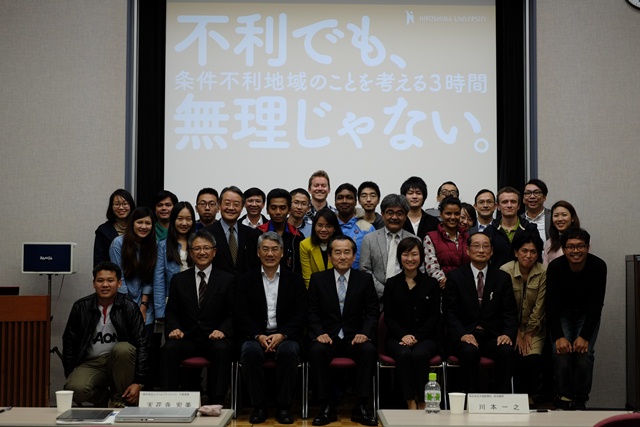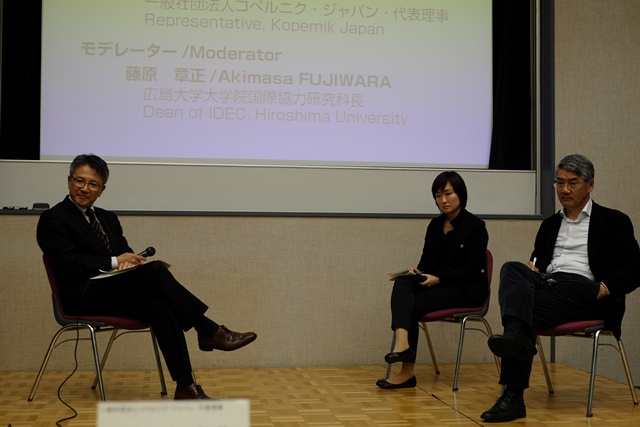 Prof. Funck Caroline will appear on "Umitoikiru (Living with the sea)" on Friday, November 14th.
(This program will be in Japanese)

[Air Date&Time] Friday, November 14th 2014 7:30PM-8:43PM
[Station] NHK Hiroshima
[Program] "Umitoikiru (Living with the sea)"

the program's website (Japanese Only)
Prof. Kazuo TOMOZAWA will appear on NHK Kyoiku "Koko-koza (Highschool Lectures)" on Friday, December 12th.
(This program will be in Japanese)

[Air Date&Time] Friday, December 12th 2014 2:40PM-3:00PM
[Station] NHK Kyoiku
[Program] "Koko-koza (Highschool Lectures): Focus on India"

the program's website (Japanese Only)


The 23rd Taoyaka Program Seminar was held on October 15th
Date:Wednesday, October 15th 15:30-17:00
Venue:TAOYAKA Classroom(2nd Floor, University Hall/Daogaku Kaikan)
Lecturers:Mr. Kinley Gyeltshen (Chief Programme Officer, ECCD & SEN Division, DSE, Ministry of Education)
Mr. Karma Norbu (Assistant Program Officer, Special Education Section, ECCD & SEN Division, DSE, Ministry of Education)
Title:Gross National Happiness (GNH) Education in Bhutan
The Seminar will be held in English and is open to the public.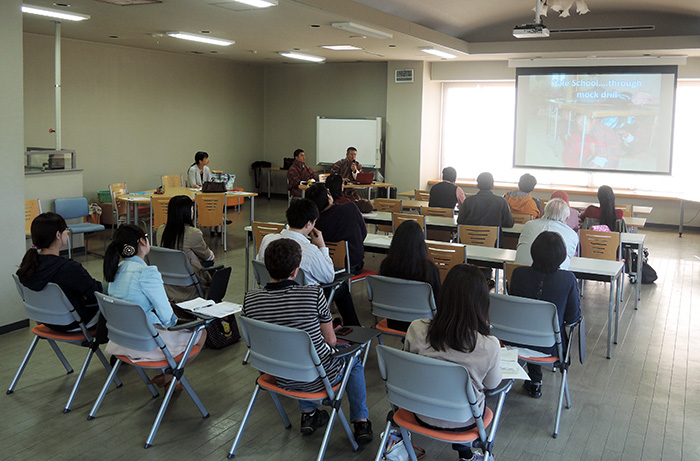 The 24th Taoyaka Program Seminar was held on October 4th
Date & Time: Saturday, October 4, 2014 15:30-16:40
Venue: B253, 2nd floor, Graduate School of Letters, Hiroshima University
Lecturer: Mallika Shakya (South Asian University)
Title: Revisiting Development Discourse in Nepal: Turbulent Textile and Garment Industry as a Case Study
Language:English
Co-host: HINDAS(The Center for Contemporary India Studies at Hiroshima University)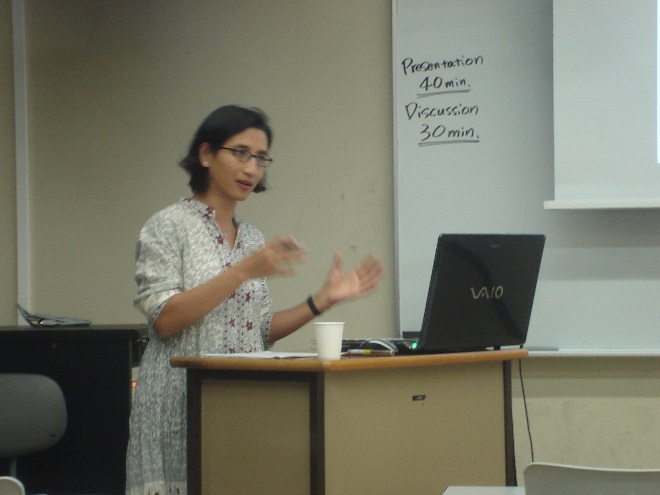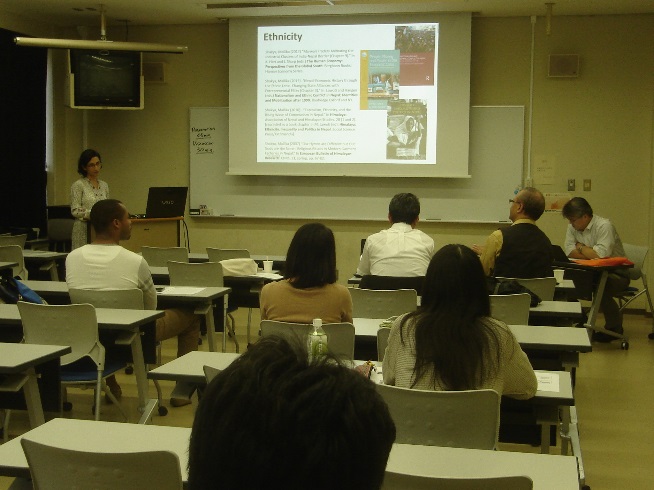 TAOYAKA Program's second Opening ceremony was held on October 1st, and we welcomed 7 new students of October Admission and 4 students of Transfer Admission into the 3rd year.
The students are from Japan, China, Vietnam, Indonesia, Laos, the U.S.A., Thailand, and Colombia. We wish all of you the best of success!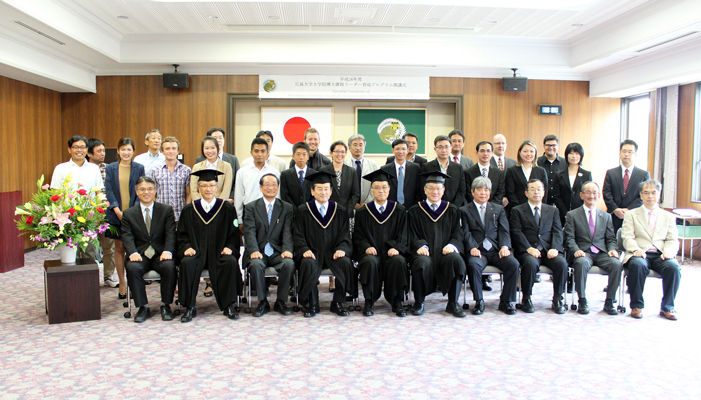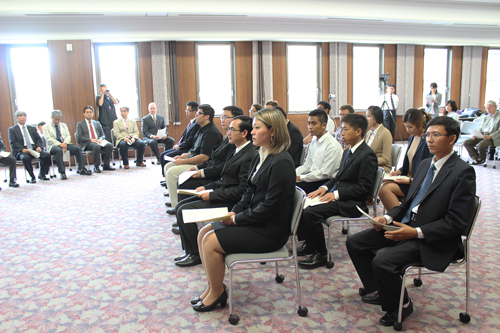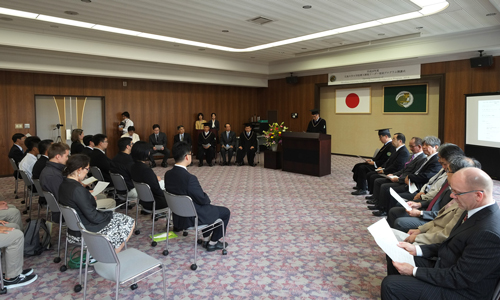 Joint Fieldwork in Kyushu
TAOYAKA Program for creating a flexible, enduring, peaceful society held a joint fieldwork with Doshisha University "Global Resource Management" and Kyushu University "Advanced Graduate Program in Global Strategy for Green Asia" – programs selected as MEXT "Program for Leading Graduate Schools" – from September 8th to 11th.
The three programs aim to foster global leaders who "address global issues for multicultural coexistence" (Doshisha University), "contribute to the realization of an Asia where ecology and economic growth can coexist" (Kyushu University), and "lead chain development of culture, technology, and society in disadvantaged regions" (Hiroshima University), respectively.
In the joint fieldwork, students visited Oita and Fukuoka prefectures, and visited Suginoi Geothermal Electric Power Plant (Beppu City, Oita) and Kyoto University Institute for Geothermal Science in Beppu City, Oita, the city known as the birthplace of Japan's geothermal power generation, and Hatchobaru Geothermal Power Plant (Kusugun, Oita). 11 lectures by academic members of the three programs and lecturers from public offices and companies were given, and students developed understanding on geological features of Kyushu, advantages and issues of various type of power generation, and problems of developing nations.
27 students from the three universities were divided into three teams with members of different academic fields and nationalities. On the final day of the joint fieldwork, the students of the three teams gave presentations on the theme of geothermal power generation as clean, renewable energy and possibilities of using the technology in regions confronted by various issues.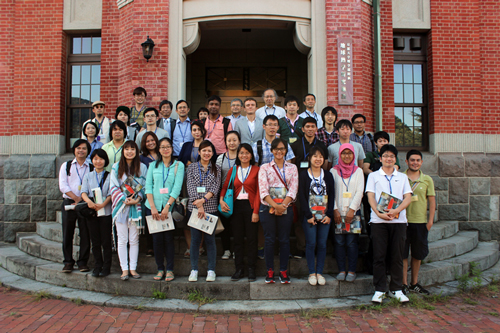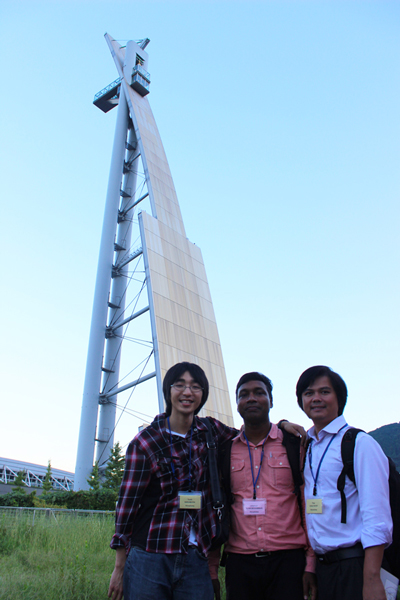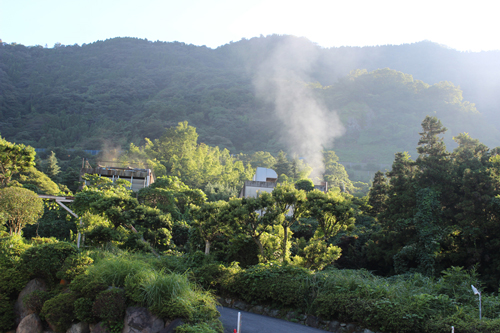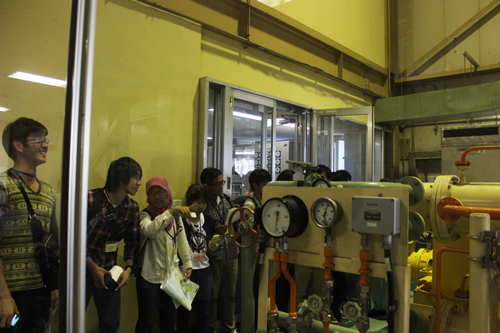 Application Numbers of Accepted Applicants for Taoyaka Program (Transfer Admission into 3rd year for October, 2014, Internal Special Selection)
Please click here (PDF)