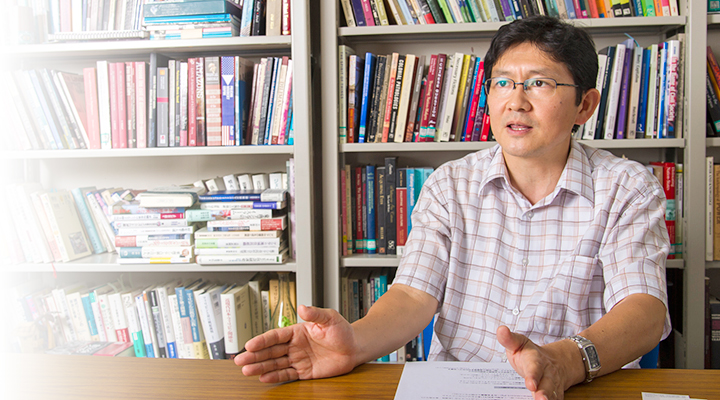 MENTOR
INTERVIEW
Research on regional societies and cross-cultural
understanding transformed by development
Understanding the living cultures
of Asian regions,
to become leaders with
a broad perspective!
---
Cultural Creation Course
Graduate School of Humanities and Social Sciences
Prof.Koki Seki
Research on regional societies and cross-cultural
understanding transformed by development
An initiative to investigate universal issues from changes caused by development in regions of different cultures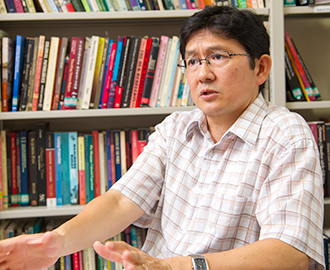 Associate Professor Seki's area of expertise is cultural anthropology. This is an academic discipline that focuses on cultures other than those in modern Western society, in particular, the cultures of societies that are home to minority races, and from there reflects on one's own society.

Within this discipline, Associate Professor Seki's research is centered on social development in developing nations, particularly ODA-based development from the social perspective. He conducts on-site surveys to investigate how the social communities in question change as a result of such development projects, and how the lifestyle of the residents is transformed.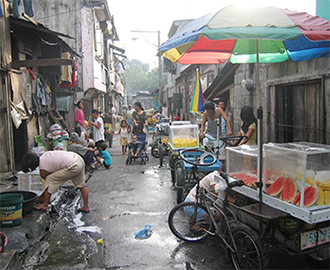 "I narrow down on one country or region in my research, and look at all of the various factors related to that region. I mainly research the Philippines. I started going there at the end of the 1980s, and I've been continuing my field work there since then" says Associate Professor Seki.

Prior to the real formation of the country, the Philippines was colonized. As nation-building needed to be done in the process of independence after the war, it is undeniable that the resulting nation was unbalanced. The population today continues to grow, and ties between families are extremely strong.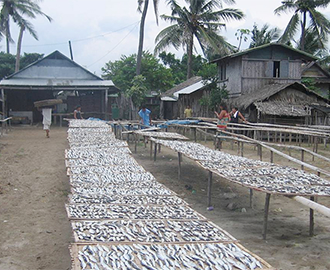 Japan, on the other hand, went through a period of national isolation and the nation was built after the Meiji Restoration that followed. Currently Japan is experiencing low birth rates and an aging population, and the family framework is getting weaker.

"In a way, Japan and the Philippines are opposites. In my research I place emphasis on looking at examples from the Philippines and seeing what kind of meaning they have for Japanese society and for advanced nations in general".
Training human resources who can develop plans based on an understanding of the region

In the Taoyaka Program, Associate Professor Seki leads educational research on Area Studies of Southeast Asia. In this subject, students read and analyze the literature as they discuss methodologies to understand a region (mainly the countries of Asia) from the perspectives of regional studies and cultural anthropology.
"The basic point is to equip the students with methods of understanding the societies and cultures in question. Rather than looking at the target region through one's own lens, I want the students to learn the basic work method of looking very thoroughly at the systems and customs that exist in that region's society" says Associate Professor Seki.
Associate Professor Seki currently has under his supervision a female student from Indonesia. Once she has completed the course, she hopes to work in tourist development and contribute to the revitalization of the region.
"She was previously working in the government's Ministry of Tourism, and in the future she may join an NGO. In any case, what I want her to learn here is a stance for understanding that is focused on examining what kind of development the people in the region want".
In any case the students spend a long period of time in areas of South Asia and others for onsite education and fieldwork, and Associate Professor Seki says that what is required is "to adopt a perspective that is as close as possible to the local people".
"Rather than simply bringing in a new plan proposal, I would like her to become someone who can think about tourism development based on an understanding of regional society".
Acquiring a broad perspective while experiencing Japan as a point of comparison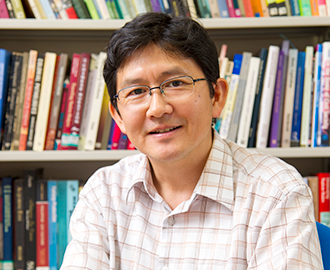 The Taoyaka Program aims to train students to become practitioners whose skills are immediately applicable after graduation. Associate Professor Seki also has high expectations.

"Even in Japan, which is an advanced nation, there are currently a huge number of issues in the rural areas. I think that the students who have come to Hiroshima University from Asia are seeing this. I believe that one of the major benefits of this program is that as they study here, students are able to compare Japanese society with their own country or Asian countries trying to implement regional revitalization".
He also points out that additionally, because the program has three courses, it is very significant that students are able to adopt a viewpoint that may be completely different from their area of interest to date. In many ways, the Taoyaka Program, which aims to produce graduates who can work flexibly in a range of areas, is similar to Associate Professor Seki's research style.
"In onsite surveys, you often realize that developing nations possess things that Japan or other advanced nations do not. And you find things that Japan can learn from. The real pleasure of this kind of research is to come up with by own viewpoint based on the data that I have collected. This is a process that we place importance on in the Taoyaka Program too, so I really want the students in the program to feel that interesting aspect for themselves as well".

Koki Seki Professor
International Peace and Co-existence Program, Division of Humanities and Social Sciences, Graduate School of Humanities and Social Sciences
April 2020 – Professor, Graduate School of Humanities and Social Sciences, Hiroshima University
April 2018 – March 2020 Professor, Graduate School for International Development and Cooperation, Hiroshima University
April 2010 – March 2018 Associate Professor, Graduate School for International Development and Cooperation, Hiroshima University
April 2007 – March 2010 Assistant Professor, Graduate School for International Development and Cooperation, Hiroshima University
April 1, 2000 – March 31, 2007  Research Assistant, Graduate School for International Development and Cooperation, Hiroshima University
April 1, 2001 – March 31, 2002  Special Research Fellow, Japan Society for the Promotion of Science
November 1, 1998 – March 31, 2002  Visiting Research Associate, Institute of Philippine Culture, Ateneo de Manila University (The Philippines)