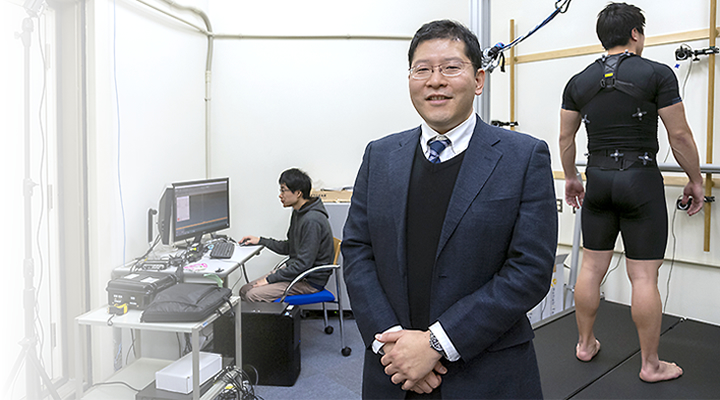 MENTOR
INTERVIEW
Research on human augmentation technology using artificial muscles
Necessity to make use of
new engineering technologies
such as motion assist even
in disadvantaged areas
---
Technical Creation Course
Graduate School of Advanced Science and Engineering
Professor Yuichi Kurita
Research on human augmentation technology using artificial muscles
Development of human augmentation devices assisting physical motions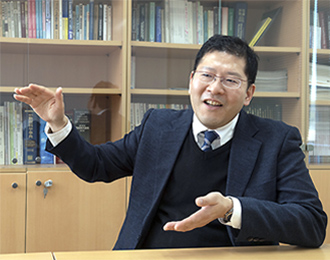 Professor Kurita is making strides in advancing research in roughly three categories, 1. "Human augmentation technology", 2. "Next generation human machine interface" and 3. "Haptics design."

In particular, what professor Kurita focuses on in the field of human augmentation is "Motion assistive technology using artificial muscles." Features of this technology include flexibility, light weight, low cost, good wearability and usability in daily life even outdoors. In comparison with traditional motion assistive devices, such as rigid exoskeletons, which is heavy, fragile, costly, and hard to wear, this technology is increasingly expected to be used across a wide range of applications.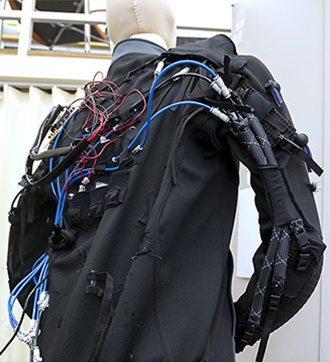 "I think that this technology which is just starting to be introduced in a variety of environments such as care welfare services, manufacturing and agriculture is one of technologies which can be used by many potential users in disadvantaged areas through the Taoyaka Program," Professor Kurita said.

"New technologies often cannot be used at once on-site, and some people may think that those new technologies should not be adopted for the Taoyaka Program. However, even if even if on-site implementation and distribution is not feasible now, it may be possible ten years down the road. cannot be used now, they may become available ten years down the road. We are in a position to research new technology in the belief of potential, therefore,therefore, being a part of Taoyaka program does not restrict us from performing new research which cannot be directly used at on-site. One simple example is a type of soft actuator called pneumatic gel muscle (PGM) which has been specifically researched by our lab. It uses relatively smaller air pressure to actuate because of its customized inner tube material. It is more energy efficient as compared to other counterparts and hence, matches up well with the concepts of the Taoyaka Program."
Conducting user study to validate actual usability on-site
Professor Kurita is in charge of "Advanced Biosystems Engineering" in the program. Basically, the first half of semester is dedicated to lectures while the second half of the semester is dedicated to group work. The class is broad in scope and takes on "everything if it is about relationships between humans and machines" such as ergonomics, human-interface, human augmentation, virtual reality and robots. "In past group work, each group discovered something ergonomically excellent and ergonomically not so excellent, presented why each group thought so in poster form, or conducted workshops on the illusion of weight, and competed on whatever curiosities they could master among the groups."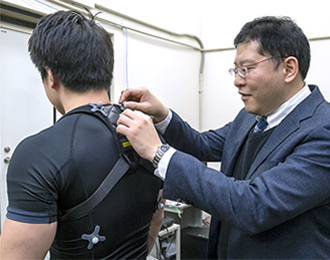 Students who have been instructed under the Taoyaka Program up to now have demonstrated characteristics at on-site activities.
"A student from India who finished his doctoral thesis for completion in March 2020 researched a walking support suit using the artificial muscles. In order to search for what was required for use in actual environments, he interviewed farmers and senior citizens who he assumed would be the users and asked they wear and work using his design. And then, he carried out activities to conduct questionnaire evaluations on how they felt, and asked for feedback which led to the development of new technology." Professor Kurita mentioned that conducting such a user study is unique to the Taoyaka Program."
I want to deliver new technologies to disadvantaged areas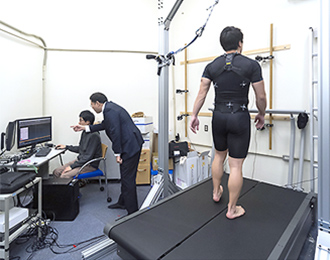 Professor Kurita has been taking part in the Taoyaka Program since 2015 as a member of the technical creation course mentors. He is now the supervisors of three master and doctoral students.

He gave us his thoughts on the Taoyaka Program as follows.
"I make no distinction between the students under the Taoyaka Program and general students, and do not intend to focus on the research about the artificial muscles. Each research theme is determined through the discussion with each student.
I am interested in understanding phenomena caused by physical interaction between humans and machines, and its applications to the design of devices. My main research field is haptics and human interaction. I look to advance research in new fields which my students and I share interest in together."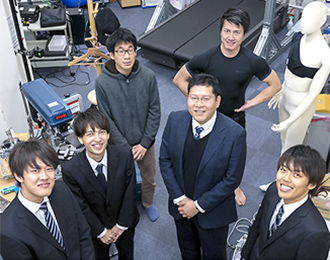 Professor Kurita offers his own policy of "being enjoyable." For example, exercise is required to become healthy, however, if we think that exercise is painful and hard, we will probably quit. However, if exercise is made enjoyable, health is enjoyably achieved. The basis of motion assistive technology research by professor Kurita is also the thought that "I want to make tiring exercise enjoyable." Professor Kurita considers that "just the slight introduction of technology" is important to assist people in carrying out activities actively and taking the essence of sports and gamification into consideration is one of promising technologies. "Being enjoyable" expands possibilities. — This concept can be made available across wide areas such as rehabilitation and training of machine operations.

Professor Yuichi Kurita
Electrical, Systems, and Control Engineering Program, Division of Advanced Science and Engineering, Graduate School of Advanced Science and Engineering
2005/01 ~ 2007/03 Research Associate at Graduate School of Engineering, Hiroshima University
2006/01 ~ 2006/03 Visiting Associate Professor at The State University of New York (SUNY) at Stony Brook, USA
2007/04 ~ 2011/03 Assistant Professor at Graduate School of Information Science, Nara Institute of Science
and Technology (NAIST)
2010/03 ~ 2011/03 Visiting Scholar at Georgia Institute of Technology, USA
2010/02 ~ 2017/03 Visiting Researcher, National Institute of Advanced Science and Technology (AIST)
2011/10 ~ 2015/03 Researcher, Japan Science and Technology Agency (JST) PRESTO, Information Environment
and Humans Research Area
2011/04 ~ 2017/03 Associate Professor at Graduate School of Engineering, Hiroshima University
2017/04 ~ 2018/03 Associate Professor at Graduate School of Engineering, Hiroshima University
2015/07 ~ Concurrent Professor at Kobelco Excavator Laboratory for Advanced Technology in the Collaborative
Laboratory of Hiroshima University and Kobelco Construction Machinery Co. Ltd., Hiroshima University
2016/12 ~ Researcher at Japan Science and Technology Agency (JST) PRESTO, Social Information Infrastructure Area
2017/07 ~ Visiting Researcher at Inami – Hiyama Lab, Research Center for Advanced Science and Technology
(RCAST),The University of Tokyo
2018/02 ~ Present Assistant to President by Special Appointment at Hiroshima University
2018/04 ~ Special Assistant to Dean of Graduate School of Engineering, Hiroshima University
(International Collaborative Research)
Professor at Graduate School of Engineering, Hiroshima University
2018/10 ~ 2019/11 Director at Kansei Brain Engineering Department of Brain, Mind, and Kansei Research Center,
Hiroshima University
2019/12 ~ Director at Human Augmentation Department of Brain, Mind, and Kansei Research Center, Hiroshima
University